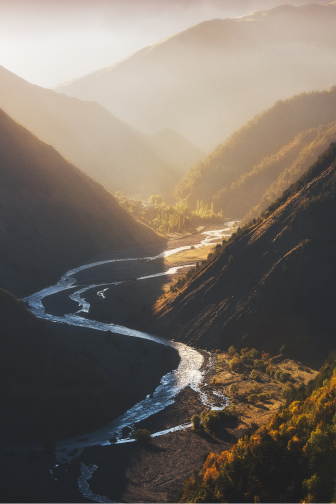 For many years following the collapse of the USSR the Caucasus was considered a trouble spot. Chechnya and Dagestan were experiencing the times of turmoil and war.
Fortunately, in recent ten years the Caucasus can be traveled safely. The only threat tourists are facing today is gluttony. But extraordinary hospitality and beauty can captivate indeed.
The Caucasus is a huge mountain range extending over 1100 m from the Black to the Caspian Sea. The greater part of the northern side belongs to Russia and comprises nine distinct regions – Krasnodar Krai, Adygea, Kavminvody, Karachay-Cherkessia, Kabardino-Balkaria, North Ossetia, Chechnya, Ingushetia, and Dagestan.
Many still associate the Caucasus with danger. However, the region is way more tranquil today. The republics of the North Caucasus – Ingushetia, Chechnya, Karachay-Cherkessia and others – are at the end of the list in the criminal statistics. Terroristic acts are highly improbable. There hasn't been a single one in the year 2020. Locals even in big cities often leave cars and apartments unlocked and let children play in the streets without concerns. The Caucasus has the highest degree of hospitality, where everybody is eager to help you out, give you a treat, invite you over. The Caucasus has unbelievably pristine mountains where tourists rarely set foot. The Caucasus has awesome food – tourist are thrilled by the local cuisine. Also, there're traditions and folklore, rituals that are alive and not conserved in museums, and martial arts. If you've already been to Russia, consider coming back for the sake of the Caucasus. Our country cannot be fathomed without this region, as many a time the Caucasus determined the course of history and the evolution of culture in Russia.
BLACK SEA
CASPIAN SEA