The owner of the herd left the allocated herd in the forest and parted with it without regret. He was not concerned about its destiny any more. On the contrary, he was thankful for being chosen by the spirit of the forest. The herd left in the forest might be devoured by predators, or merge with somebody else's herd as the "alala". Oftentimes the herd left in the forest returned in 2-3 days, safe and sound, to the original owner, who accepted the animals. This fact was regarded as a special "favor" of the spirit of the forest done to the animal owner, and he was very much respected by the people. This custom was called "raise one thousand, and send one hundred to the forest".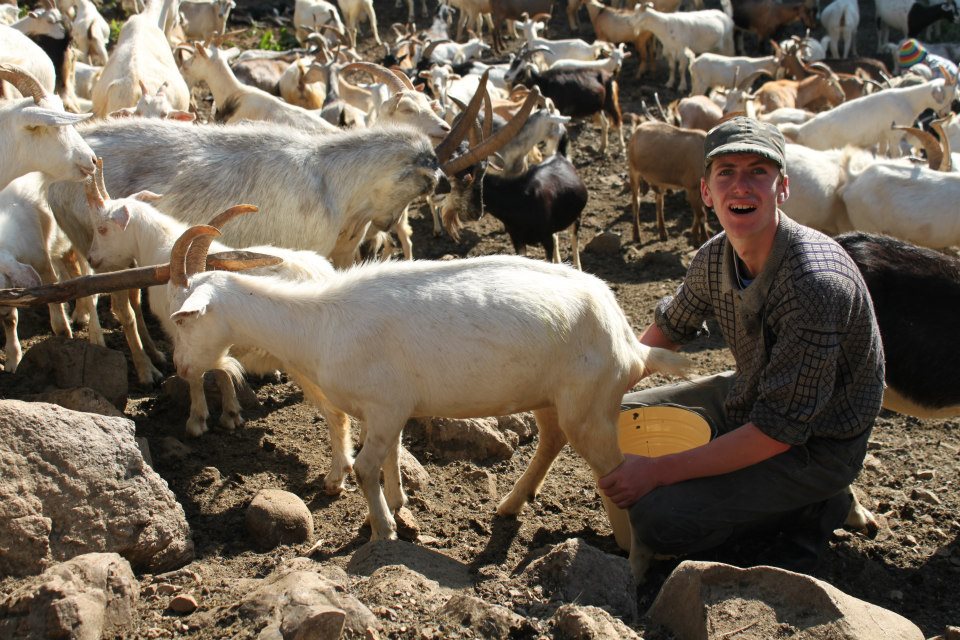 Milking goats in Abkhazian mountains. Photo by Dmitry Lemeshev
According to Ashuba Shakhan and Amichba Marat, the old shepherds from the village of Jgerda, this tradition was observed by their compatriot Ashuba Ajgeriy. In two days, 100 animals from his herd safely returned home from the forest. It was ascribed to the great favor done by the spirit of the forest to Ajgeriy which he "enjoyed" to his last day.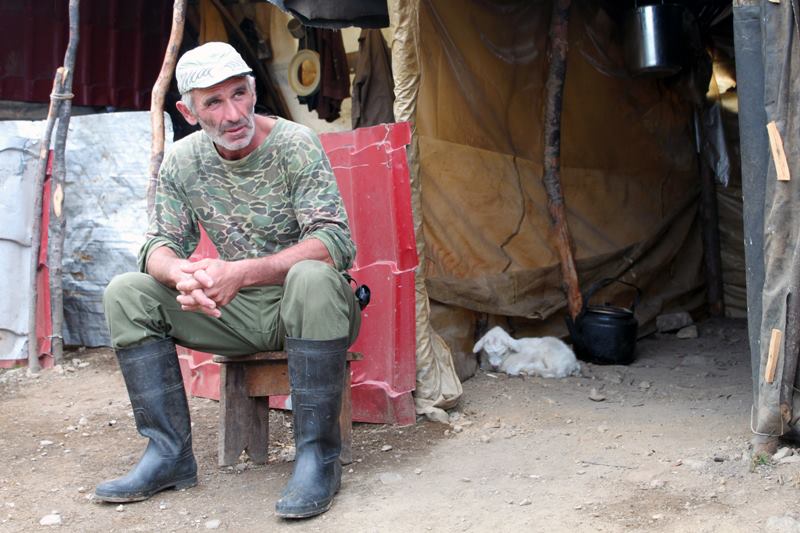 Dadi Guaramia near his hut. Photo by Dmitry Lemeshev
According to the local lore, Kakubaa Gaja's sons from the village of Gup who lived in the mid-19th century owned about 1000 small ruminants. The brothers decided to sell some of their plentiful cows and buffalos, and buy the missing quantity in order to perform the ritual to honor of the spirit of the forest. However, their elder sister Arifa who had influence on the brothers precluded them from doing so. Tina, one of the brothers, disagreed with her and insisted on respecting the ritual, but she was adamant about her decision. According to the informant Lomiya Guaja, subsequently, this farm went broke, and the brothers, deprived of their cattle, died in poverty. (From the book by Ts. N. Bzhania, From the History of Abkhaz Economy and Culture, 1973)