Media & Art
Organizing interviews with residents of South Ossetia for theatre project from London
2 - 6 May 2011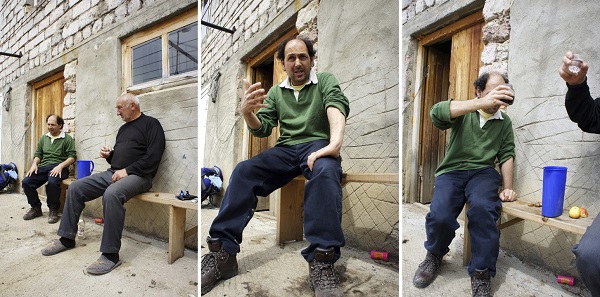 Moving Theatre, a private company from London, asked us to organize a tour in South Ossetia. They wanted to talk to ordinary people of different social backgrounds, nationalities, personality, and age. They intended to use the interviews in staging Shakespeare's "Troilus and Cressida", drawing parallels between the events of the Trojan War described in the play and the lives of people who survived the war in South Ossetia.
We organized a trip to South Ossetia for the directors of the staging: obtained entry permits, provided transport and accommodation. In four days of working in the country we recorded 13 interviews with all kinds of people: a businessman, a priest, a wood carver, a former military, employees of a local theater, an English teacher, a radio director, a student, a peasant, and others.
01
On the way to South Ossetia. Photo by Dmitry Lemeshev
02
Communicating with peasants. Photo by Dmitry Lemeshev
03
Taking interview. Photo by Dmitry Lemeshev
04
Having rest in the evening. Photo by Dmitry Lemeshev
05
Success! Clients are happy in the airport of Vladikavkaz. Photo by Dmitry Lemeshev
Review

We travelled with Kavkaz explorer to South Ossetia in May 2011 to undertake some specific research for a theatre project. We found the company after much searching on the internet, had a skype conversation with Dmitry and then put ourselves in his hands to visit a region which most western Europeans feel is out of bounds. The visit was truly an adventure in many, many ways — and probably took Dmitry as much out of his comfort zone as it did us! But it was also a huge success. We achieved the research we wanted and which would have been completely impossible without Dmitry's help; we met some wonderful people (special mentions perhaps to Murat and his parents) and spent time in the most beautiful, unspoiled mountains. We gained a real insight into the lives of ordinary people in South Ossetia who were quite extraordinarily open and generous with their time, their homes and their stories. We even won over the fierce guardians of the hotel in Tskhinval unused to the strange requirements of Western foreigners. We ate plenty of pies. And we caught the flight back to Moscow!
Melanie Nock, Moving Theater